Category: Interesting Hardware
---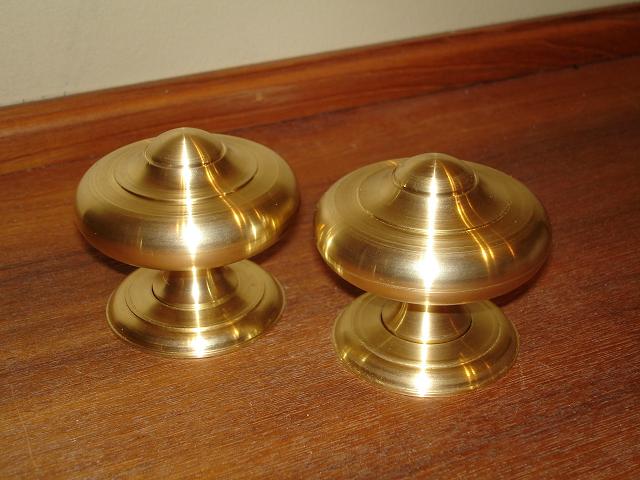 These fabulous turned brass georgian entry knobs weigh over two pounds each.  The weight and feel of this hardware reminds us of how hardware was selected (and how important details were).  Some architects and designers are having a revival of incorporating these fabulous traditional details into their projects.
---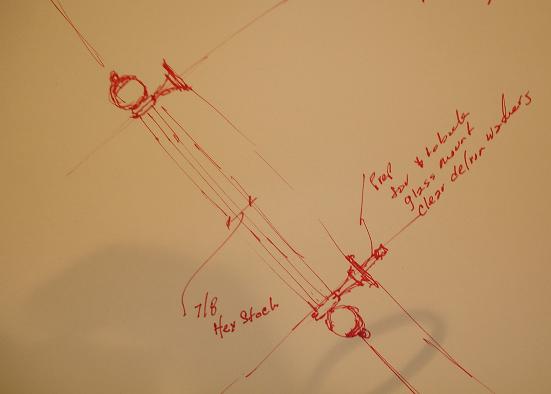 This traditionally styled shower door pull/handle will be made with brass hexagon material with turned details.  The final finish of this will be a high polished nickel.
---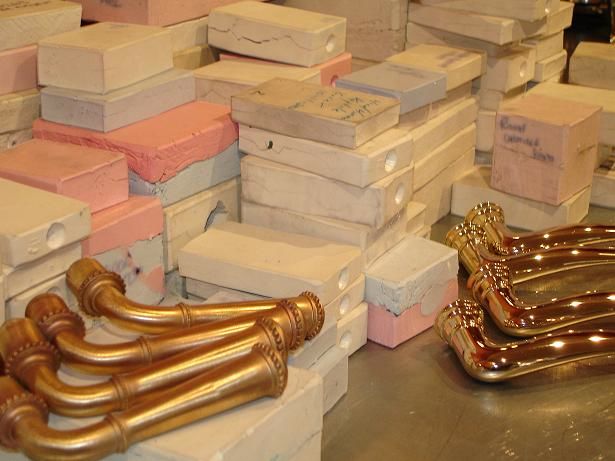 This is a photo of some of our molds in our pattern collection of over 500 pieces (relating mostly to hardware and some other miscellaneous projects). We are working on another entry for this fall that will detail the lost wax process and show patterns being made as well as examples/details of hardware projects.
If you are missing a piece of hardware (even if it is only a cabinet knob) for your restoration project we would be happy to make one for you.
---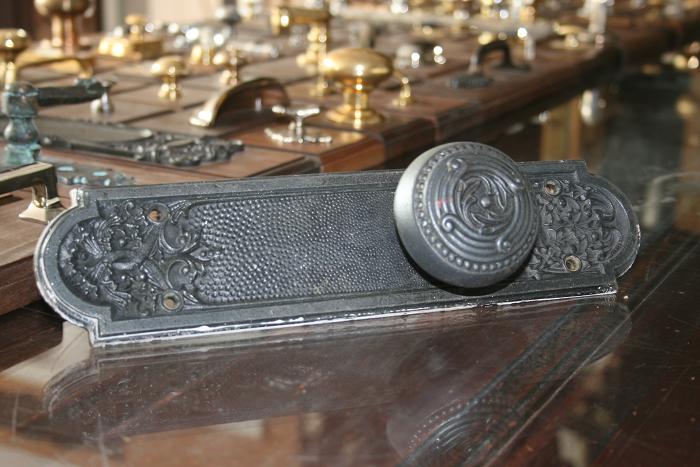 This hardware is for a historic building in Chicago we are restoring all the hardware on. The finish is Bower-Barf — we are in the process, developing a historic finishes resource to assist homeowners, designers and architects with determination and the historical process of plating and finishing.
Much of these finishes cannot be done today because of environmental regulations. However, new technologies and processes allow us to achieve the same final finish with a more advanced and cleaner process. Unfortunately most of the time the labor involved with even the new process is just the same if not more intense.
---
This is a great example of using the new with the old. These mirrored pocket doors are a part of a local hardware installation. The flush pulls are actually about 90 years old and being used with new edge pulls. Hopefully we will see some more photos from this project soon.
---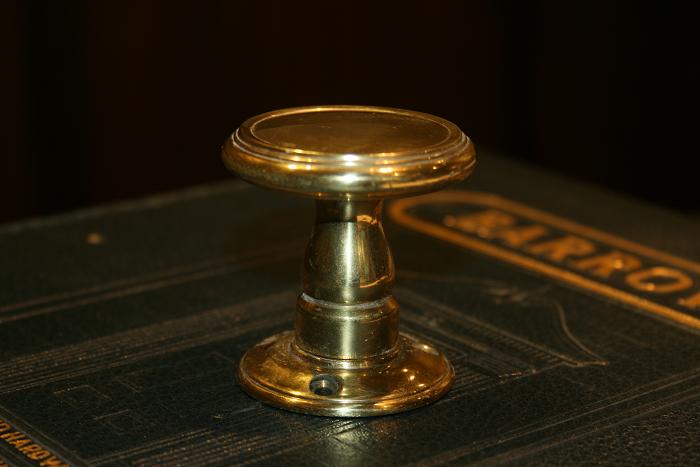 This knob and rosette was removed from an apartment at 1500 North Lake Shore Drive in Chicago.
The building is a French Renaissance style and cost $5mm to construct in 1927-29. Each unit was built with silver vaults and wood burning fireplaces.
---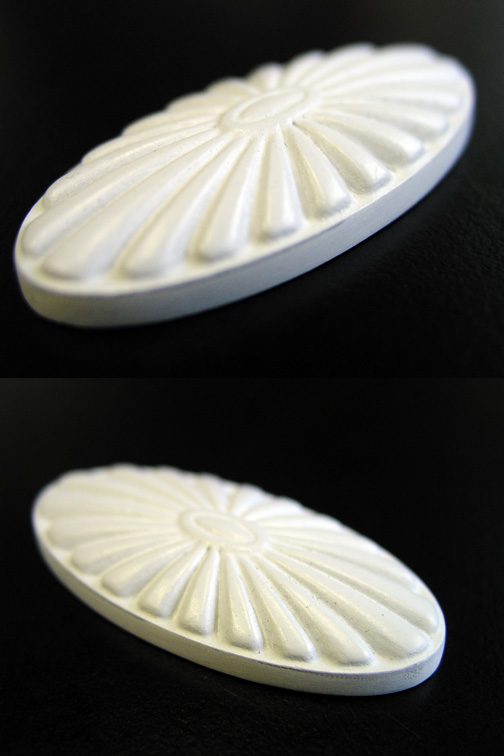 This sculpt is the center portion of a knob created by a Chicago architect (for more information on the designer contact geb@albarwilmette.com) for a Chicago apartment.
The final oval knob will have a turned rosette and be finished in burnished nickel. All existing hardware in the apartment will be finished to coordinate with the new hardware.
---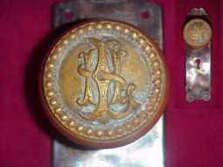 This is a door knob from the famous Lexington Hotel in Chicago. This building was demolished over a decade ago. This knob is worth about 200.00 to a collector and was cast in bronze specifically for this hotel. Collector's enjoy hardware that has provenance and can be identified with a specific building or home.
---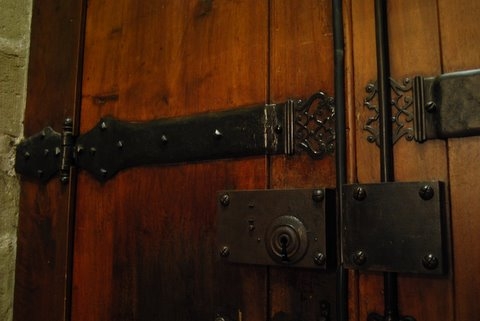 This is an original iron hardware set from Geneva, Switzerland (where Calvin began his work). The detail of the old masters is absolutely incredible.
---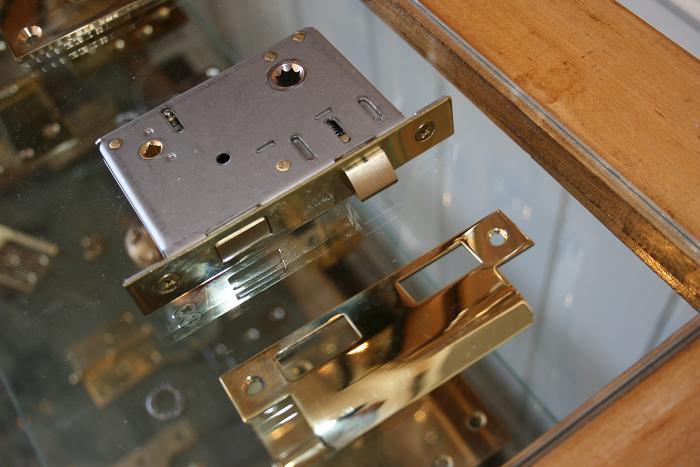 This fine screen door latch is available in several back-sets for various door conditions. We would love to help you select hardware and finishes for your next project. Our finishes and plating is second to none.
---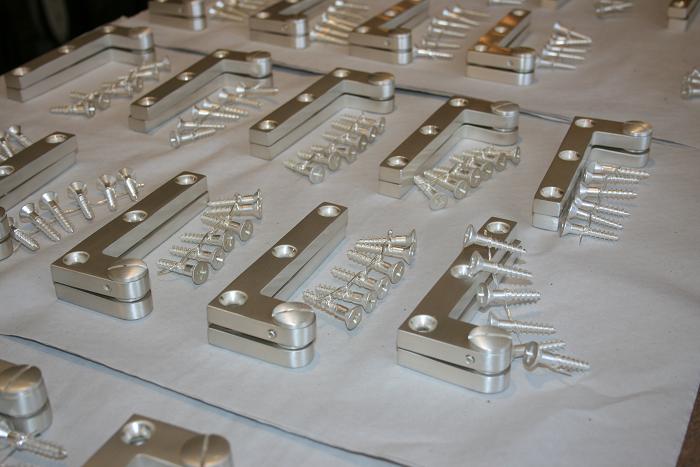 These solid brass offset pivots were finished in satin silver for our client in New Jersey. They also have a clear coat that will aid in the prevention of tarnish.
---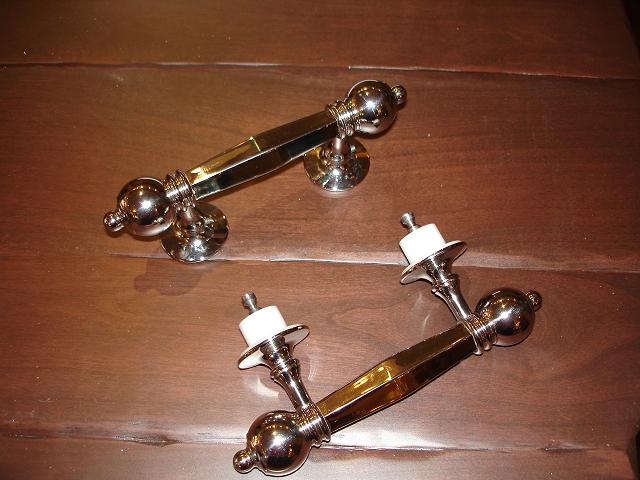 These are some custom shower door pulls prepared for a local client. They are finished in polished nickel. We offer most of our pulls in a glass door mount set-up.
---