Category: Interesting Hardware
---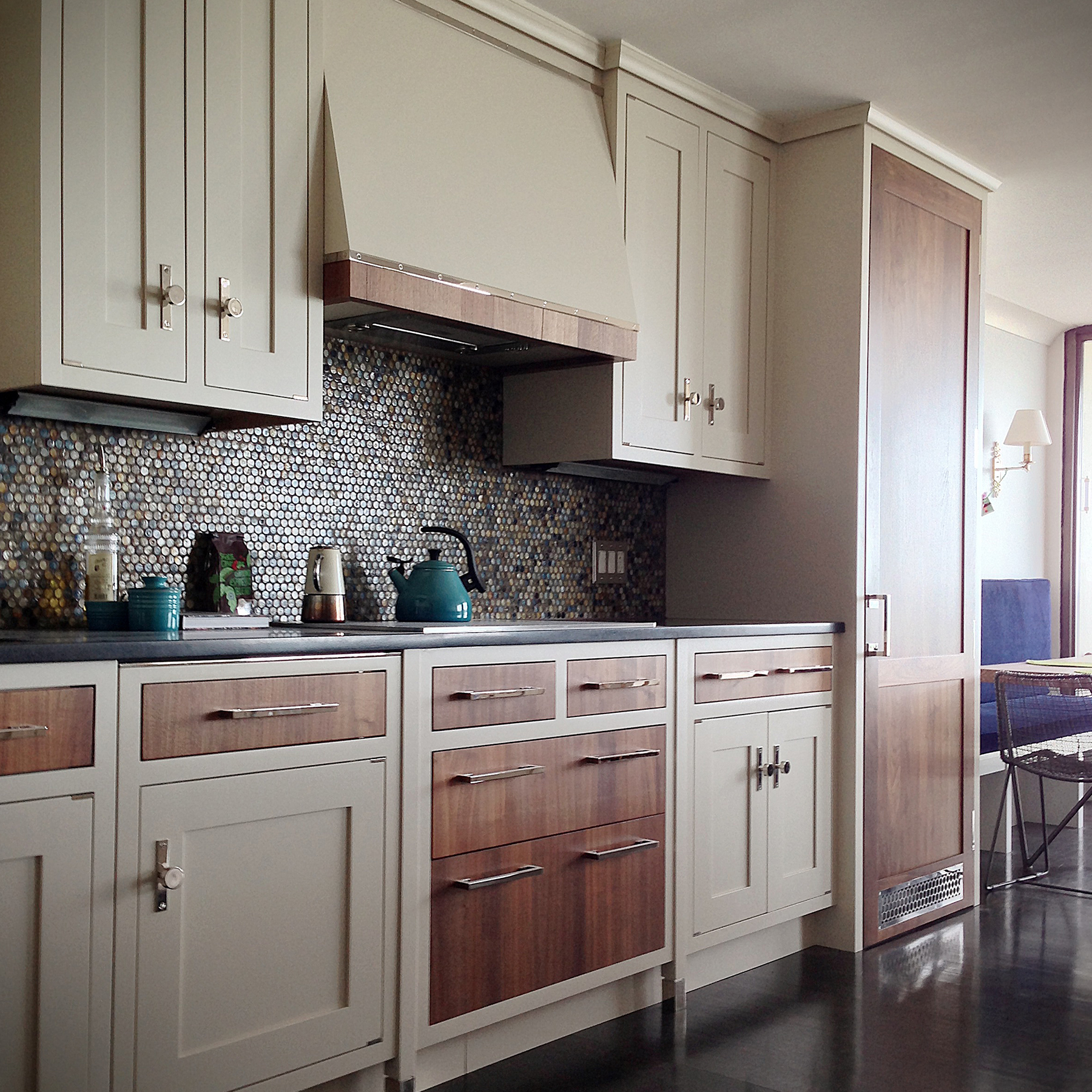 Utilizing crisp clean lines & concealed mounts in each design, the Wilmette Hardware mod collection has made it's impression as one of our more thoroughly developed hardware collections.
By clicking the image below, you can view & save our mod collection PDF to help inspire your next project.
---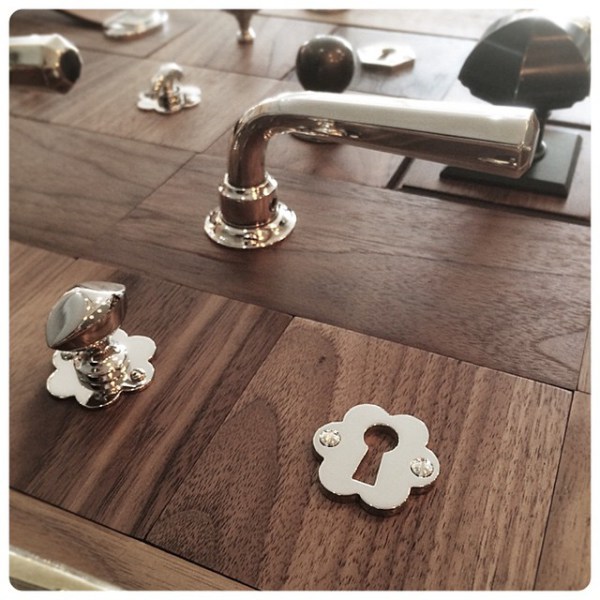 The Westminster lever has quickly become a client favorite. It's unique and elegant octagonal detail descending from the end of the lever all the way into the base, beautifully shows off it's particular finish. Accompanied by it's keyhole cover and turn piece, this hardware collection can be killer. Below you will see more of these Westminster levers taking on their respective finish.
Be sure to checkout wilmettefeed.com to set your sights on our latest projects and hardware happenings.
---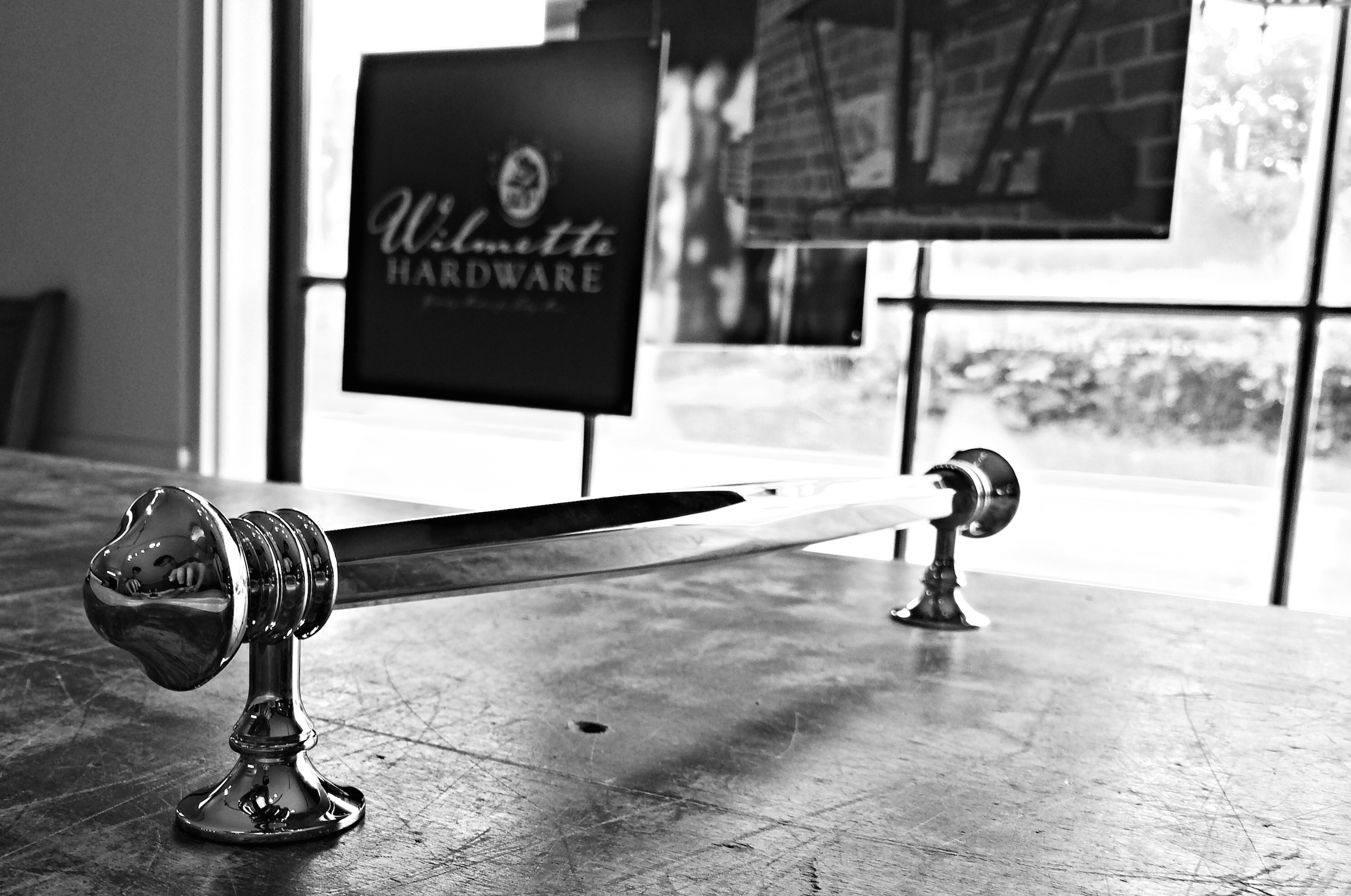 Here is a B&W edit of our provident pull in polished nickel.
The contrast in this photo brings out the best detail and the fine form of this particular shower door pull.
We love capturing the quality characteristics that we work hard to achieve.
---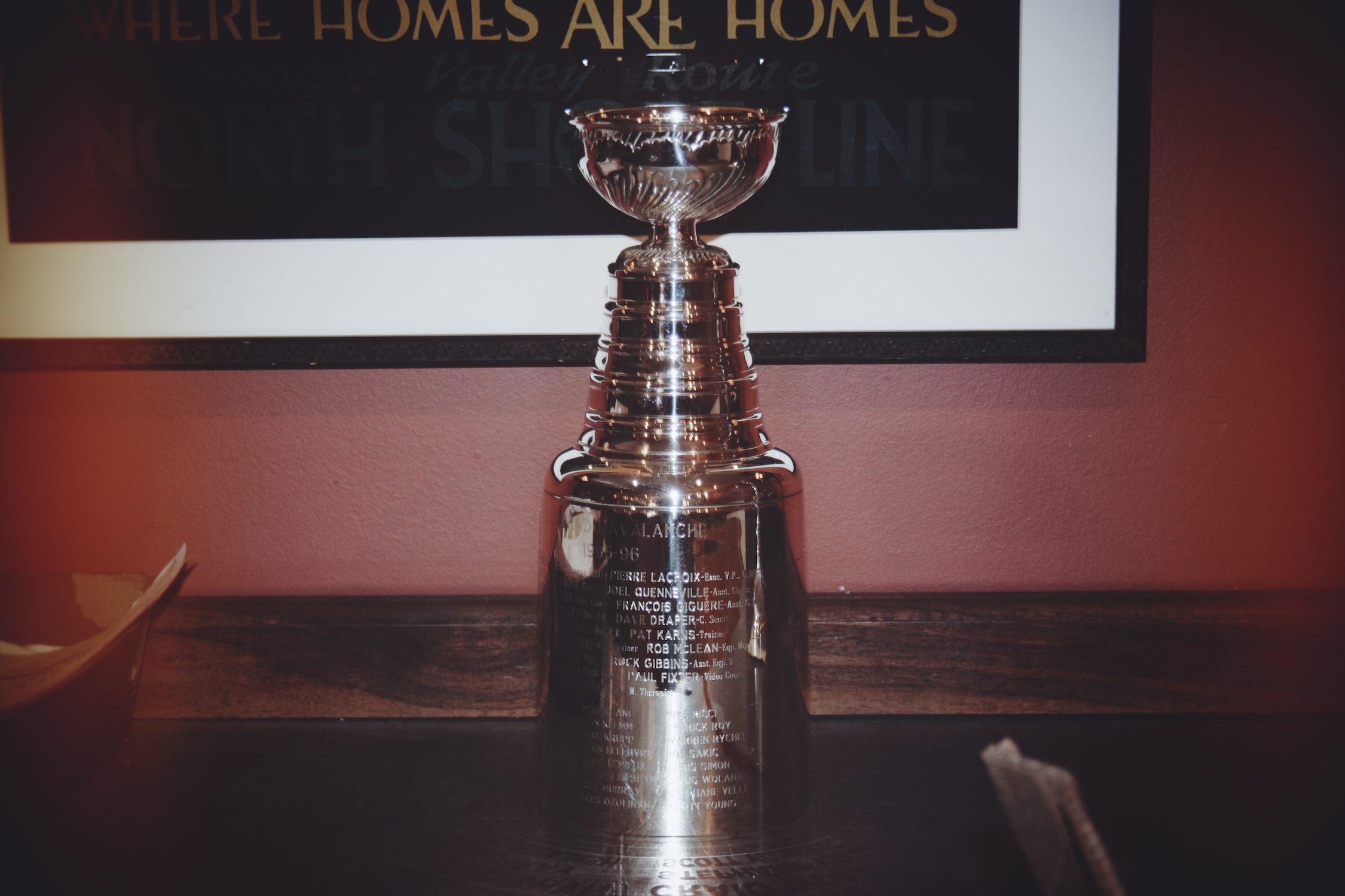 Here's a neat shot of a trophy we cleaned up for the Colorado Avalanche from the '95-'96 Stanley Cup.
If you look close enough you can see a familiar name of the one and only Coach Q, head coach of the Chicago Blackhawks.
Maybe one day the Blackhawks will grant us the pleasure of shining up their metal memorabilia!
---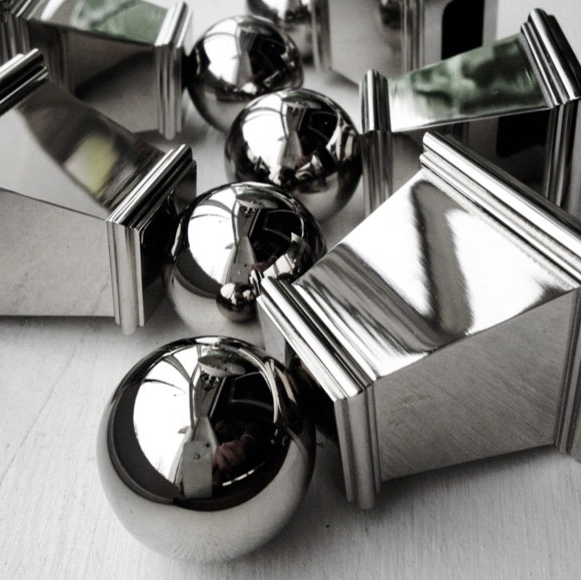 These sweet little vanity legs were machined from solid billet brass and nickel plated for a local project.  We can do custom feet / wraps / caps / etc.
---
Our harmon hinges are just the best – we might as well just be honest.  We have integrated ball catches that allow no exposed ball or roller catches in your fine millwork.  We also have a custom hinge that will conceal the face plate when the door is pocketed in millwork.
---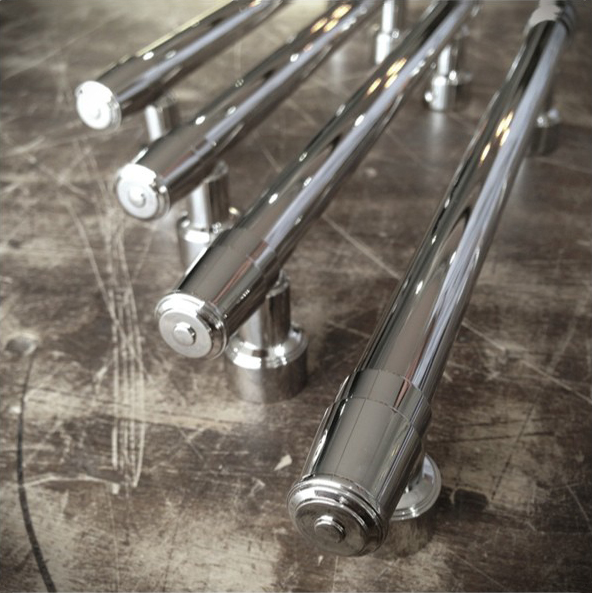 These shower door handles were fabricated to complete a suite of hardware in an apartment in the city.  These can be attached through 1/2″ holes your glass door fabricator drills.
---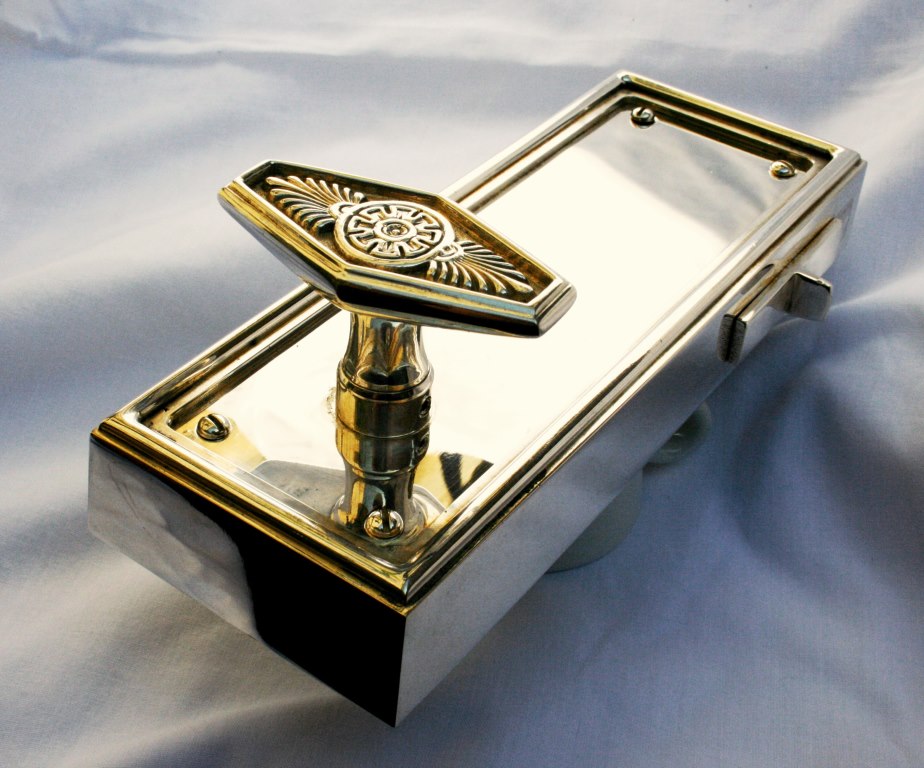 One of the fun things about using Wilmette is the ability to customize and finish.  Working with a bespoke shop that completes finishing all under one roof is a far different experience than that of working with a showroom or retailer.  Be sure to ask us for a tour of our facility – it just as amazing as everything we show you in our display spaces.  
---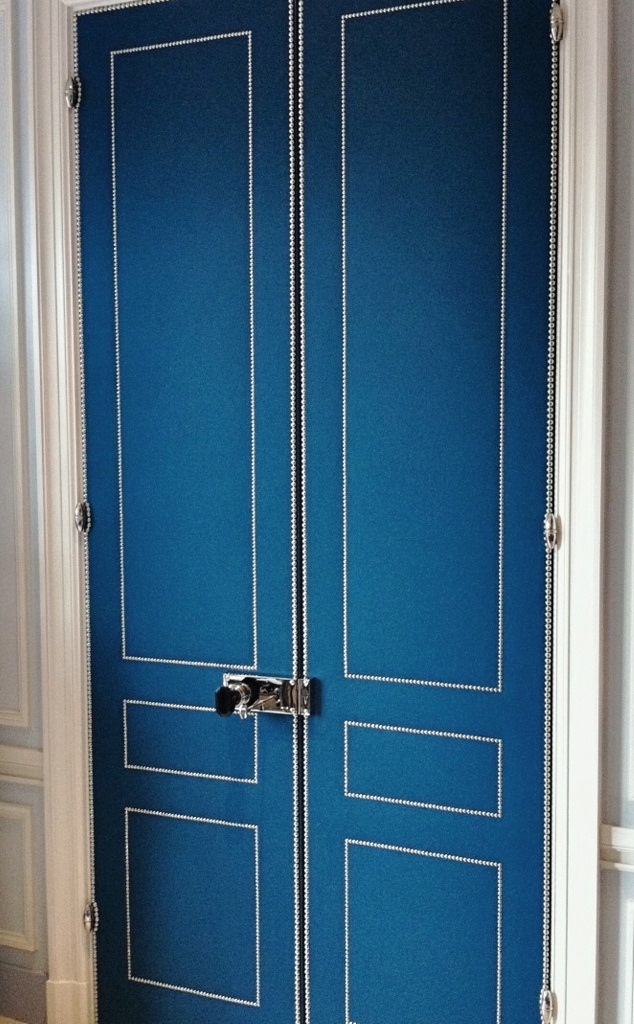 People always say that our hardware is like jewelry when they visit our shop in Wilmette.  I think you can tell from this photo that this is true.  A great use of olive knuckle hinges and a polished nickel rim lock.
---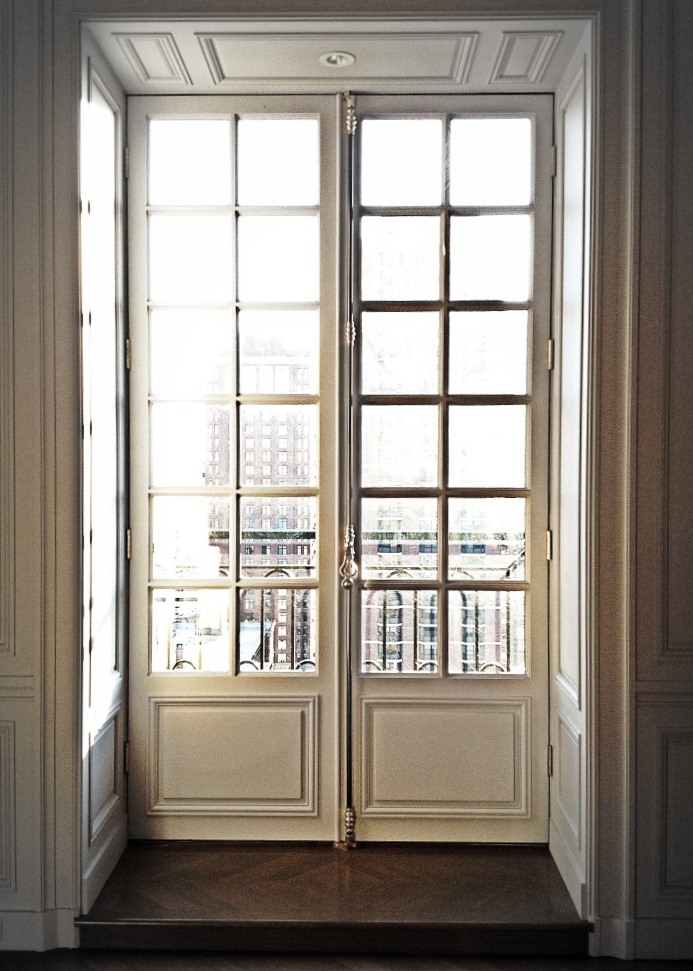 This french espagnolette hardware was custom manufactured for a french door in Chicago.  This is very similar to a french cremone bolt – both of which provide a true multi-point traditional latch.
---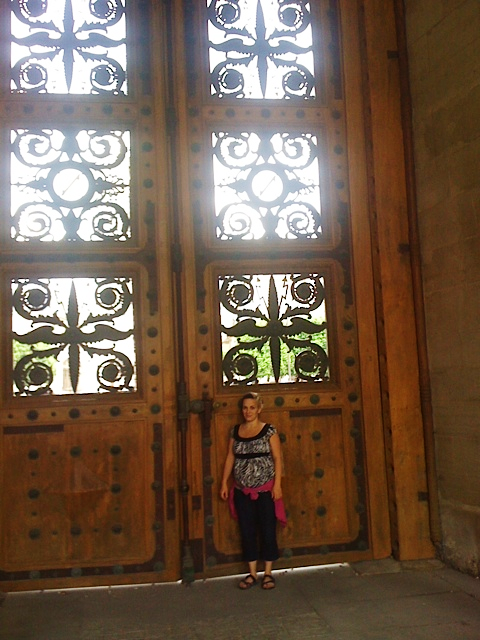 we receive hardware photos from around the world. yes, our friends are hardware nerds, too. these photos were taken in paris. i thought everything was supposed to be bigger in texas… send us your hardware photos!
---
This simple bin pull is being re-manufactured to become a part of our cabinet hardware line.  If you are an architect or designer and wish to have a sales representative come out and show some of our samples send us a quick email to info@wilmettehardware.com.
---