a great local find (or a standard to many)
---
---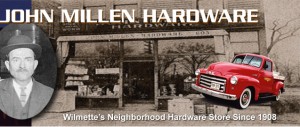 If you live in Wilmette you hopefully have had the pleasure of meeting the fine folks at Millen's Hardware.  A day never goes by when one of our staff members stops in to purchase something we don't have on the shelf here (trust me they have it all!).
Check out there great web site and blog
www.johnmillenhardware.com
or just stop by and see what good old fashion service and friendly staff they have.
---
---